KNX Products - Multifunction actuators
MINiBOX 0-10V X1
Multifunction actuator with 1 0-10 V input/output analog channel
REF: ZIO1X010
DIN rail mounting actuator (2 DIN wide) with 1 channel configurable as 0-10 V output, 0-10 V input or 4-20 mA input. It includes fan coil module for installations where either the valve or the fan are 0-10 V signal controlled and the remaining are controlled by an external device.
Manual control is available using the push button and the channel's status is shown via the LED indicator.
It includes 10 logic functions and 1 thermostat.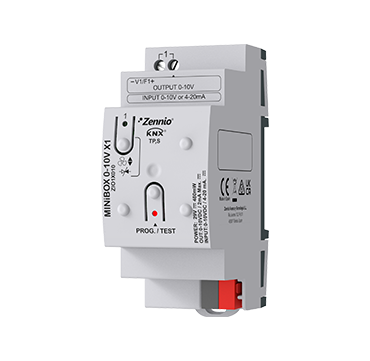 Application Program ETS
Only for ETS5/ETS6 (see Warning)
Warning
Update ETS5/ETS6 with the last version in order to be able to import the product.