KNX Products - Multifunction actuators
MAXinBOX 8 v3
Multifunction actuator. 8 x 16 A outputs C-Load.
REF: ZIOMB8V3
Multifunction actuator for DIN-rail (4.5 units) with 8 outputs (16 A C-Load) which offer multiple configuration as shutter channels, as individual outputs or as blocks of 2-pipes fan coil controller. It allows manual control of its outputs through the push buttons on the cover. It includes 20 independent logical functions.
Discontinued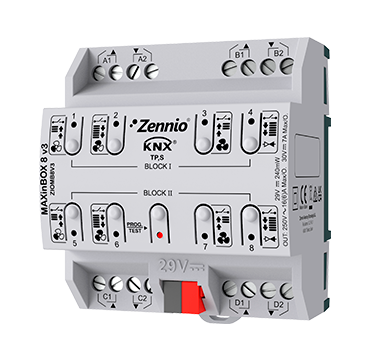 Warning
IMPORTANT NOTE:
The production of this product,
MAXinBOX 8 v3
, has been discontinued, since it has been replaced by
MaxinBOX 8 Plus (Ref. ZIO-MB8P)
, including the same and even greater functionality. However, this discontinued device counts on all the support that may be required: manuals, databases, spare parts and technical support.
Update ETS5/ETS6 with the last version to be able to import the product.
Application Program ETS
Only for ETS5/ETS6 (see Warning).