KNX Products - Multifunction actuators
MAXinBOX 8
Multifunction Actuator 8Out. 16A C-Load
REF: ZN1IO-MB8
Multifunction actuator. 8 x 16A outputs C-Load. 4.5 DIN rail units. MAXinBOX 8 is a multifunction actuator for DIN rails that offers multiple configurations of up to 4 shutter channels or 8 independent outputs of 16A, which support capacitive loads. It allows manual control of its outputs thanks to the push buttons on the cover. It includes 10 independent logical functions.
Discontinued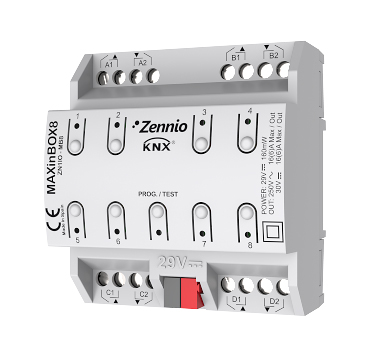 Warning
IMPORTANT NOTE:
The production of this product,
MAXinBOX 8
, has been discontinued. We recommend the use of
MAXinBOX 8 Plus (Ref. ZIO-MB8P)
instead, which includes similar features. Nevertheless, this discontinued device counts on all the support that may be required: manuals, databases, spare parts and technical support.