KNX system - IP/USB/RF to KNX Interfaces
Zennio Linecoupler
KNX Line Coupler
REF: ZN1SY-LCTP
Linecoupler is the KNX line-coupling and line-repeating solution. It connects lines with galvanic isolation filter. Telegram dropping to reduce traffic.
Discontinued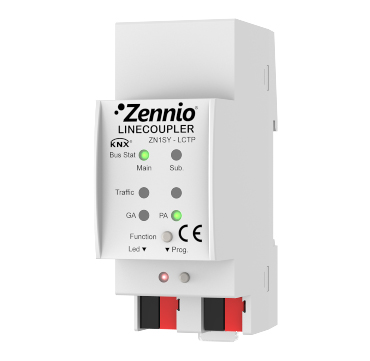 Warning
IMPORTANT NOTE:
The production of this product,
Zennio Linecoupler
, has been discontinued, since it has been replaced by
Linecoupler CL (Ref. ZSYLCCL)
, including the same and even greater functionality. However, this discontinued device counts on all the support that may be required: manuals, databases, spare parts and technical support
Application Program ETS
IMPORTANT NOTE: Zennio Linecoupler 2.0 is only compatible with devices whose serial number is later than serial number 17AGJ0000. For devices with previous serial number, it is necessary to use Zennio Linecoupler 1.2 version.