Energy efficiency - Electric meters
KES – KNX Energy Saver
KNX Energy Saver
REF: ZN1IO-KES
KES is Zennio's contribution to reducing energy consumption. It allows the measurement of instantaneous electric power and the energy consumed by up to three different monophase circuits or a single triphase circuit. In addition, KES provides information about the corresponding CO2 emissions and it estimates the cost.
Discontinued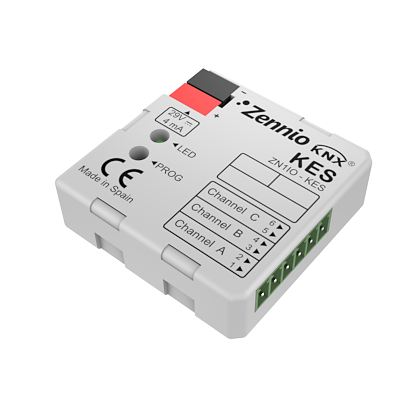 Warning
IMPORTANT NOTE:
The production of this product,
KES - KNX Energy Saver
, has been discontinued, since it has been replaced by
KES Plus (Ref. ZIO-KESP)
, including the same and even greater functionality. However, this discontinued device counts on all the support that may be required: manuals, databases, spare parts and technical support
Update ETS4/ETS5/ETS6 with the last version to be able to import the product.