KNX Products - Multimedia
AudioInRoom
KNX audio system
REF: ZMU-AUIR
Audio controller for hotel rooms, which allows guests to play music from their own smartphone through Bluetooth® connection or from an auxiliary audio input (such as TV). It has two stereo channels (20 W), so that you can enable/disable, mute or adjust volume in two independent areas. Bluetooth® pairing is restricted with password to make sure the guest is connecting to the audio system in his room. Accessories: loudspeakers Ø 6.5", 8 Ohm or Ø 3.5", 4 Ohm.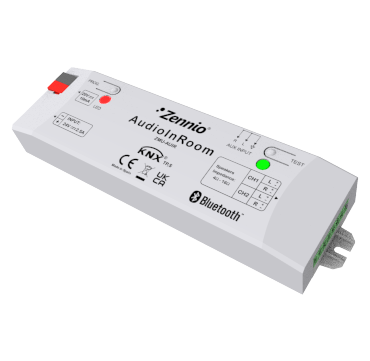 Application Program ETS
Full compatibility for serial numbers from 20ACC0494 on. For devices with a previous serial number, please check non compatible functionalities in the manual.
Only for ETS5/ETS6 (see Warning).
Warning
Update ETS5/ETS6 with the last version in order to be able to import the product.