MAXinBOX FC 0-10V FAN
FAN-COIL Controller for up to Two 2-Pipe or 4-Pipe Units with 0-10 VDC Fan Speed Control Signal
REF: ZCL-FC010F
Controller for up to two 2-pipes or 4-pipes fan coil units with on/off valves and 0-10 V fan speed control signal. Mounted on DIN-rails (4.5 units). 4 multifunction outputs (16 A C-Load) that can be used for the control of the fan coil on/off valves or any other purpose. 4 analog-digital multifunction inputs that can be configured as binary inputs for sensors and potential-free push buttons, as temperature probe inputs or as motion sensor inputs. It also includes 2 thermostats and 10 logical functions. Manual control of outputs and status indication through LEDs. Accessories: temperature probe and motion sensor.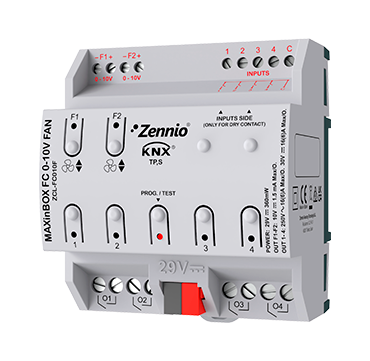 Application Program ETS
Only for ETS5/ETS6 (see Warning).
Warning
Update ETS5/ETS6 with the last version to be able to import the product.