DALI-BOX Interface v2
KNX-DALI Interface for DIN rail (4.5 units)
REF: ZDIDLIV2
KNX-DALI Interface for DIN-rail (4.5 units) to control up to 64 DALI independent ballasts, which can be associated in up to 64 groups. It includes a display and ETS DCA for easily addressing when a ballast is replaced, that also helps assigning ballasts to groups. Error indicators for each ballast.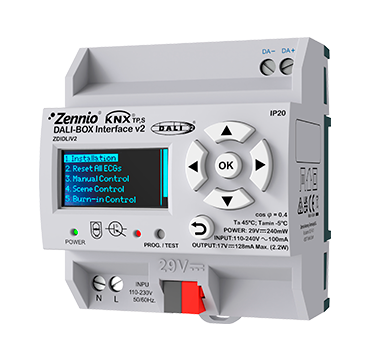 Application Program ETS
Only for ETS5/ETS6 (see Warning).
Warning
Update ETS5/ETS6 with the last version in order to be able to import the product.