MAXinBOX SHUTTER 8CH
Shutter actuator with 8 channels
REF: ZIO-MBSHU8
Shutter actuator with 8 channels. It includes a module with 20 logical functions and allows manual control of the outputs with status indication through LEDs.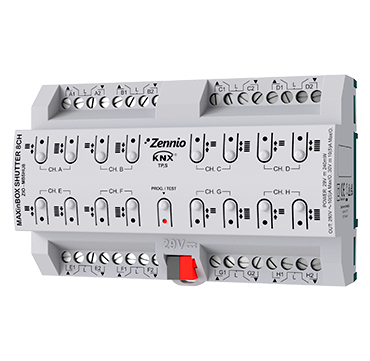 Application Program ETS
Only for ETS5/ETS6 (see Warning)
Warning
IMPORTANT NOTE:
The production of this product,
MAXinBOX SHUTTER 8CH
, has been discontinued, since it has been replaced by
MAXinBOX SHUTTER 8CH v2 (Ref. ZIOMBSH8V2)
, including the same and even greater functionality. However, this discontinued device counts on all the support that may be required: manuals, databases, spare parts and technical support.
Update ETS5/ETS6 with the last version to be able to import the product.